This unique quilt was made by Reneta for her daughter McKenna's upcoming high school graduation. Reneta had been struggling to come up with just the right idea for the quilt but when she found this Mark Ashkenazi panel at
society6.com
she knew she had her inspiration.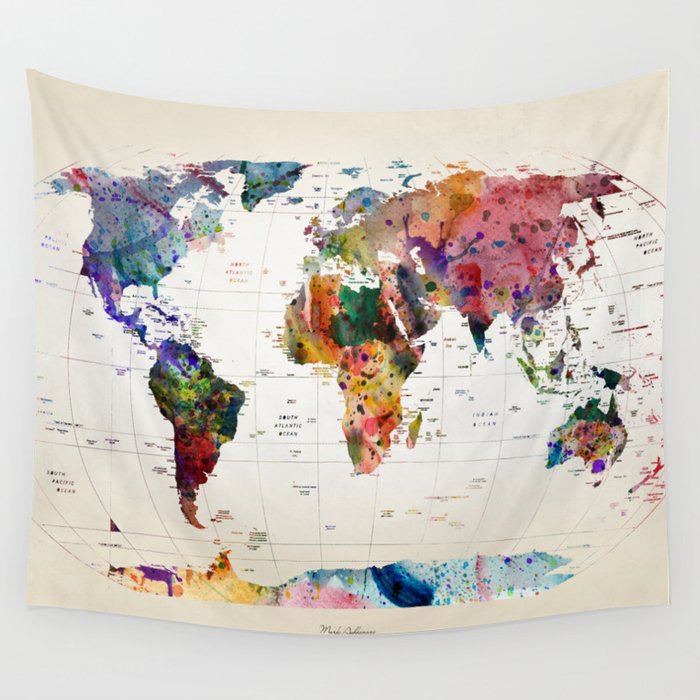 The panel is 100% polyester, so not your typical quilting material, but it quilted up just fine. Reneta use a Batik precut strip package to frame the panel.
I love how the quilting turned out on this one, although I was a little stressed that things might not work out they way they looked in my mind. The horizontal latitude lines were a breeze to quilt, but even after turning the quilt, the gentle curves of the longitude lines were challenging on the longarm as I didn't have rulers to match the ever changing curve. With the help of many Quality Street chocolates to calm my nerves it all came out great! I used Superior's Microquilter thread on the map section. It is a 100 wt thread that blends in really well. I wanted to add texture but not distract from the artwork.
I used the grid that Reneta created with her piecing to quilt clam shells in the colorful section, as was able to fit in just a wee bit of personalization too. Although it is hard to see I used a lovely variegated Lava thread in this section.
The Tula Pink backing is young and cheerful.
You will notice in many of the above picture you can see bare concrete and grass. Those photos were taken last week. This is what we woke up to yesterday.
Lots of drifting, some were much higher than my 24" quilting ruler.
An average spot on the driveway was about this deep.
I can't see the grass any longer. Thankfully we are shoveled and blown out. I just need to wait for the city to plow out the cul-de-sac so I don't get stuck again!